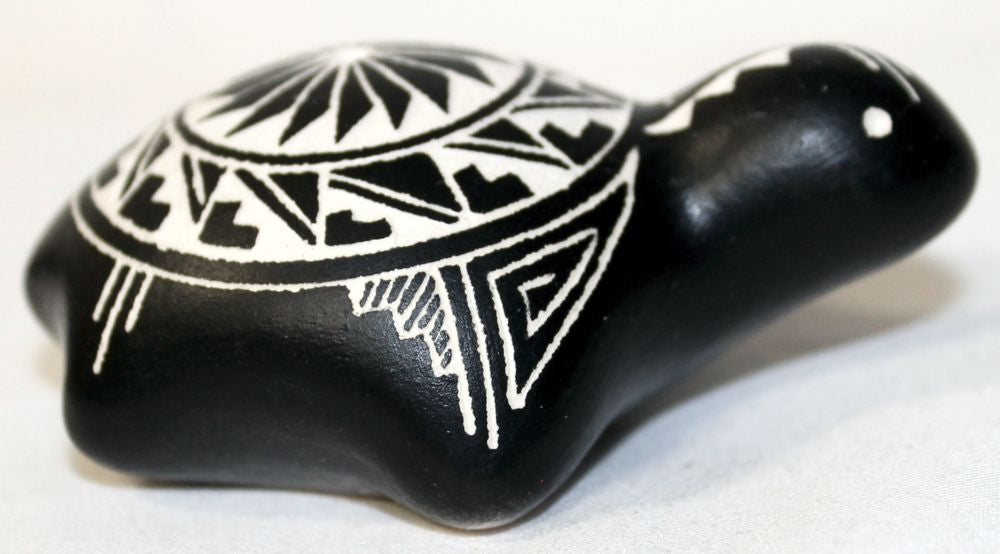 Authentic Navajo Etched Collector Pottery - Assorted Designs
PERFECT FOR YOUR COLLECTION This beautiful Native American piece will be a wonderful addition or start to your Native American Art and Pottery collection.
Simple Affordable Etching 2 3/4 x 2 x 1 1/4 inches (LxWxH)
AUTHENTIC ARTIST - The Native American Indian artists, who sign each piece, combine their natural artistic talents with the inspiration of their culture and breathtaking beauty of their homeland.
CEDAR MESA POTTERY - We specialize in unique, carefully hand crafted and Indian Hand Painted pottery that embodies our rich American heritage. This pottery comes from the high plateau country of the Southwest at the foot of Blue Mountain.
LEO BLACKHORSE specializes in ultra fine etching and two-tone etching, These simple etched turtles are an affordable alternative to Leo's high end collector pieces.  Each one is still a unique creation.  The contemporary geometric patterns draw on several traditional designs including feather, steps, rain and a variety of spiral shapes.